Home
›
Robotiq Products
Discussion
Back to discussions page
Spiral search using FT300 sensor

Answered

/ Most recent by Tyler_Berryman

12

comments
Tyler_Berryman
Posts: 122
Handy
Hi guys,
A lot of people are aware that the FT300 sensor comes with two useful URCaps functions: the active drive toolbar and the path recording feature. However, this post aims to show you guys how the sensor can also be used in a force feedback loop for insertion applications or for assembly type applications. Following the discussion I had with
@matthewd92
and
@lakshmip001
on how to program a spiral motion, I decided to write a subprogram to use a spiral search to find a hole. 
First, I move in the Z axis to find the top of the part by using a force feedback loop with a force threshold in the Z axis. Once the threshold has been met, I call the subprogram for the Spiral Search. The spiral search is based on
@matthewd92
code. To resume the spiral move, the x and y values of a pos are continuously incremented at a constant rate to create the spiral trajectory. While the robot is moving in the spiral motion, I am using a thread to monitor the force in the Z axis. Basically, as soon as the force in the Z axis falls below 2.5N, I trigger an event to stop the spiral movement. The robot then moves downward in the Z axis and releases the bearing into the hole. 
This subprogram can be very useful for applications that require a precise insertion or for applications that have a vision component integrated with the cell.
Here is the video of the demonstration: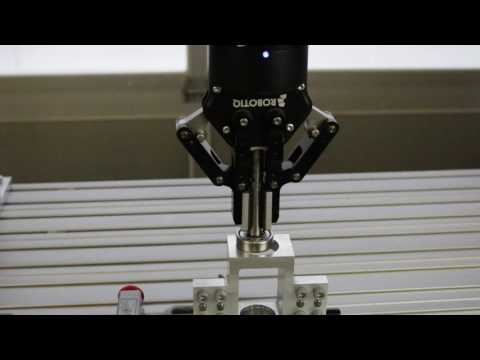 P.S. The radius and angle incrementations can be adjusted to have a finer resolution for better results!
Tagged:
Comments
Back to discussions page