Home
›
Robotiq Products
Discussion
Back to discussions page
Wrist Camera URCaps UCC-1.1.1 Update Available for Download Now

Answered

/ Most recent by MattiasM

13

comments
JeanPhilippe_Jobin
Beta Tester VIsion 1.1 Program, Wrist Camera URCap 1.3.0
Posts: 63
Handy
Already almost half a year since the launch of Robotiq's Plug+Play Vision System, can you believe it? We're proud to see the camera make its way on more and more factory floors!
This week we're releasing a software update that will improve usability and flexibility for the Wrist Camera URCaps. You can download the update now on Robotiq's support portal.
I'd like to give special thanks to @Kaleb_Rodes @Adam_Boike @Ryan_Weaver @Enric @jwilks007 @ahumphrey @JuK for helping us in testing this new release!
Here are the new features:
Improved teaching method: The user now selects the area where the part is located in the Camera's field of view. This increases the reliability of object teaching and reduces the occurrence of teaching failures.

Detection threshold edition: The detection threshold can now be modified after the object has been taught. The detection score is now displayed at run-time.

Simplified installation procedure: Software installation has been simplified, and is now performed from the Installation/Camera section after the URCaps has been installed.

Improved troubleshooting: The Installation/Camera section now displays the status of the different parts of the Vision System, for easy troubleshooting. Error messages were also revised to provide more detailed information to the operator.

Improved cycle time: Significant improvement has been brought to shorten the cycle time of the CameraLocate node.

Software-enhanced lighting: The Vision System now enhances the lighting of the field of view to improve part detection across the entire field of view.

Improved robot control: The Vision System now avoids unusable robot positions during automatic calibration and part scanning.

Calibration duplication: It is now possible to duplicate a calibration into a new snapshot position.

New board and background: The Wrist Camera now comes with a new calibration board and colored background. 



Here is a short video summarizing the main new features: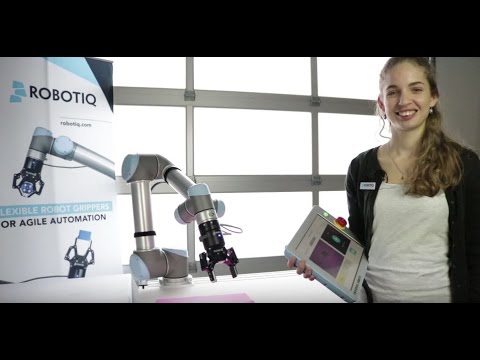 https://www.youtube.com/watch?v=yyTYxSJIXGM

You can download the software update now from Robotiq's support portal.
Try it out and let us know how you like it!
Jean-Philippe Jobin
Eng., M.Sc. / ing., M.Sc.
Chief Technical Officer / V.P. R&D 
Tagged:
Comments
Back to discussions page