Home
›
Applications
Discussion
Back to discussions page
Order preparation with Robotiq Wrist Camera

Answered

/ Most recent by bcastets

3

comments
bcastets
Vacuum Beta tester
Posts: 673
Expert
I would like to share with you a method to do order preparation with Robotiq Wrist Camera.
I this time the COVID is still impacting our everyday live and the need on contact limitation if pushing people to place online orders.
The processing of those orders require a lot of manipulation on a large variety of products. The operation have to find each items of the order and place it in the order box.
There is way to manage this repetitive task with a cobot equipped with Robotiq Wrist Camera and a gripper (ePick, airpick, Hand-e, 2F85/140,...).
The main challenge of order preparation application to be have to identify and manipulate a large variety of products.

In a previous post I present a technique with the Robotiq Wrist Camera to pick object by detecting a hidden background rather than the object itself:

https://dof.robotiq.com/discussion/2208/robotiq-wrist-camera-detect-an-unlimited-number-of-object-types-without-any-object-teaching#latest
Using this same technique, it is possible to detect the presence of an object in a storage box and process it. This approach simplify the process because there is no need to teach any objects. No need to use 3D camera or AI complex technology.
Here below is the picture of the type of storage box used for this demonstration.

The inside of the box is a cardboard matrix where are placed products. A circle is draw at the bottom of each placement. Using the Robotiq Wrist Camera, the robot search for placement where the background circle is hidden and dive on it to pick the object.
On the side of the box is an image on the product inside the box. The Robotiq Wrist camera use this side image to identify box contents and organization (product inside the box, pattern of the inside cardboard matrix,...). In this example I use an image but using a barcode would be more appreciate. The good thing is that the Robotiq Wrist Camera can read barcode !
The following video present this order preparation concept. The first part of the video shows an order processing using Robotiq ePick vacuum gripper, the second part show an alternative using Robotiq Hand-e gripper.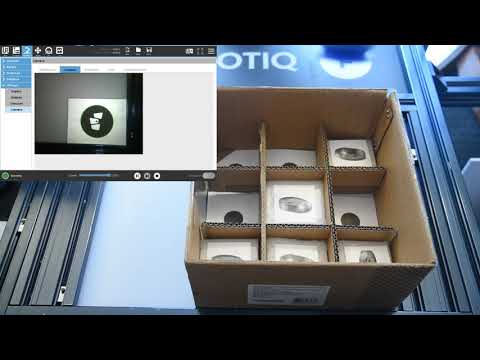 https://www.youtube.com/watch?v=RAv65xby7qs
I hope this video will give you some idea to have your cobot do order preparation for you using the Robotiq Wrist Camera.
This solution have the advantage to be simple and affordable.
I attach program and printed references used in this demo.
Tagged:
Comments
Back to discussions page