Home
›
Applications
Discussion
Back to discussions page
Answered

/ Most recent by jusgri

2

comments
Sebastien
Posts: 219
Handy
Hi pros,
we have recently been asked by a client to change the vacuum generator they had on their existing robot. They had a vacuum generator that when it was on, it was always consuming air to keep the vacuum strong and on. The client received the visit from a representative of Coval products. They were presented the Coval Lemax vacuum generator. We then got the contract to replace the unit they have with a
Coval Lemax
. This devices lets you select a range of vacuum pressure. In our example we simply set a desired vacuum % and a lower limit vacuum %. When we go an pick the object, we activate the vacuum generator. Air is consumed until desired vacuum % as been reached. Then air consumption is turned off. If the vacuum % drops below lower limit, air consumption is started back until desired value is reached again.
In the video below, we have a desired vacuum % of 85% and a lower limit of 75%.
We only need two digital output on the robot to make this work (we can also use an input to the robot to monitor vacuum and see if an object has been picked). The outputs on the robot are their to start/stop the vacuum and the second output is to blow off the object when we are releasing it.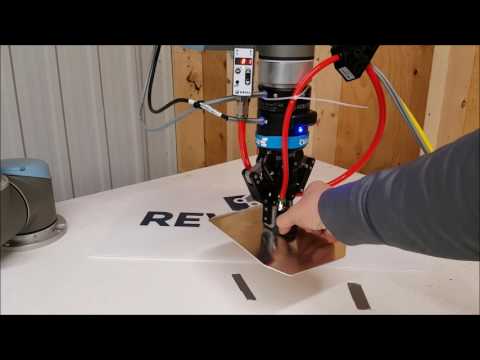 https://youtu.be/BWB7E7tr3Vk
What else are you guys using for vacuum pick and place?
Tagged:
Comments
Back to discussions page