Home
›
Applications
Discussion
Back to discussions page
Tyler_Berryman
Posts: 122
Handy
Hi guys,
I was curious to see if I could use the vision system to find the through holes in a part. I tried teaching the M6 holes to the vision system, but I had to get very close to the part and this was limiting the field of view of the camera. So I decided to teach the entire part to the vision system, and I use an IF statement to teach several hole positions instead. I used a pallet function to pick up the 4 screws from the jig, and I used 4 IF statements to tell the robot where to insert the screws. In this demonstration, I am inserting the screws clockwise into the mechanical coupling.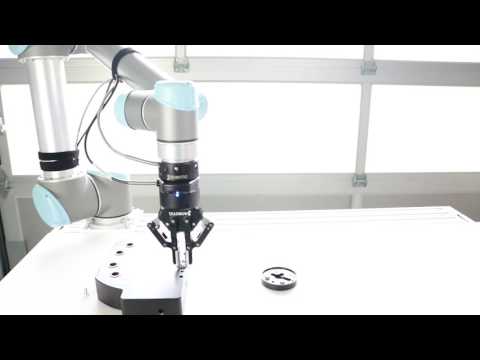 As you can see, the part can be moved around since the vision system is looking for the part after picking up each screw. 
*It would've been a good idea to use the aluminum fingertips without the silicone since the screws were sticking to the silicone!
Tagged:
Comments
Back to discussions page