Home
›
Integration
Discussion
Back to discussions page
Not answered yet

/ Started by Unknown

0

comments
Tyler_Berryman
Posts: 122
Handy
Hi Pros,
Robotiq just released the new Find Surface Skill!
This Skill is in replacement of the Linear Search Skill - Make sure to uninstall the Linear Search Skill before using the Find Surface Skill.
The Find Surface Skill uses the Force Torque Sensor's data to detect a surface during a robot motion in a given tool axis. The user can insert various instructions after the surface is found: insert a part in a hole, find another surface, start a path, perform an object location sequence with a camera, open/close a gripper, etc.


The user can default or edit a number of settings to better adapt the Skill to the application.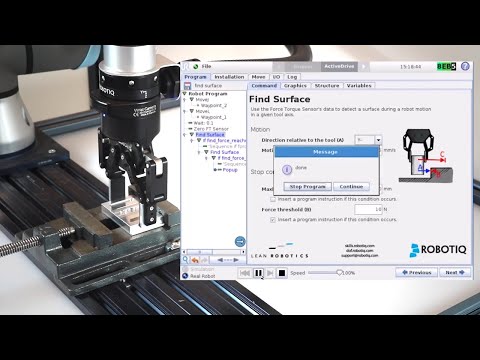 https://www.youtube.com/watch?v=znNZsIMqSO4
Browse to
skills.robotiq.com
 to download the latest version of the URCap.
Make sure to insert a Zero FT Sensor node before the Find Surface node to generate reliable results!
Regards,
Comments
Back to discussions page